Aiming for Trouble-Free Technology and Technical Support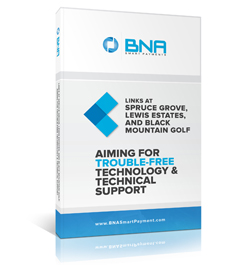 Links at Spruce Grove, Lewis Estates, and Black Mountain Golf were not unlike many golf courses across Canada. Older equipment was a hindrance on many facets of their business. Whether, it was in their restaurant, in the pro shop or out on the course. Understanding their need to update their system was a step in the right direction.
Take a look at what some of the premier golf courses on the west coast have to say about BNA Smart Payments.
The Problem:
Older payment processing equipment meant inefficiencies and mistakes
Inability to troubleshoot with previous provider
Terminals were not compliant to industry standards
Fill out the form on the right to download your copy of the case study "Links at Spruce Grove, Lewis Estates, and Black Mountain Golf: Aiming for trouble-free technology and technical support"